lifeguard at the cement pond
Temp Banned
Just like that: Germany U-turns, and wants unfashionable energy like nuclear, coal, and gas​
All it took was a War.
Policies based on fashion can be dead-set one day and gone the next. Until Saturday Germany was about to close its last nuclear power plants, gas production had been falling for 20 years and it planned to phase out coal plants by 2030.
Germany was the largest energy consumer in Europe
, but was also determined to pursue
Energiewende
, the policy of transitioning from fossil fuels.
On Sunday all that changed:
In a landmark speech on Sunday, Chancellor Olaf Scholz spelled out a more radical path to ensure Germany will be able to meet rising energy supply and diversify away from Russian gas, which accounts for half of Germany's energy needs.
"The events of the past few days have shown us that responsible, forward-looking energy policy is decisive not only for our economy and the environment. It is also decisive for our security,"
Scholz told lawmakers in a special Bundestag session called to address the Ukraine crisis.
This will include building two liquefied natural gas (LNG) terminals, one in Brunsbuettel and one in Wilhelmshaven, and raising its natural gas reserves.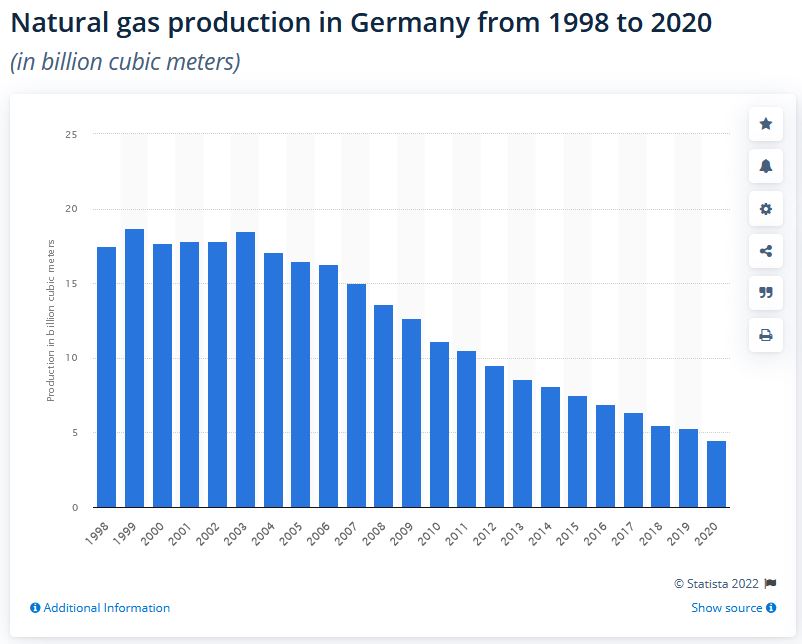 Graph, gas production, Germany, 1998 – 2020 |
Statista
An energy crisis is also a security crisis. Germany
cancelled the Nord Stream gas pipe
that would have brought even more gas from Russia.
Germany follows the UK and France in shifting energy policy away from unreliable intermittent green power. Last September the UK announced they were
getting into small modular reactors
. By October they were putting
nuclear power ahead of the intermittent unreliables
as a way to transition to "Net Zero". Late in 2021, France decided to
build up to 14 new nuclear reactors
.
As of Sunday, Germany is also
spending a lot more on their military
.
In 2018,
one World leader
did warn Germany that they were too dependent on Russian gas, and they should have spent more on their military.
Note the reference to the corruption that plagues all of the West:
"The Former Chancellor of Germany is the head of the pipeline company that is supplying the gas" … "you tell me, is that appropriate?"
That one world leader was of course Trump