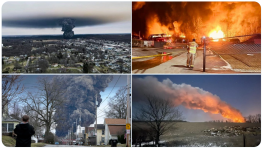 Government experts came up with a plan to blow up millions of gallons of poisonous chemicals after a train wreck. I've gathered up all the reliable news in one place for you.
www.coffeeandcovid.com
The WSJ's first story published on February 5th, headlined, "Ohio Train Derailment, Fire Battle Rural Town." The sub-headline reassured that "Officials say water and air are safe so far, but urge people to 'stay away from East Palestine.'"
So far! Remember that, about the air and water. The Journal's February 5th article described the accident like this:
Fifty cars on a Norfolk Southern Corp. train derailed Friday night about 9 p.m., causing a chemical fire. The National Transportation Safety Board said the eastbound train included 141 load cars, nine empty cars and three locomotives. It departed Madison, Ill., and was headed to Conway, Pa., when it derailed.​

Mr. Conaway and Fire Chief Keith Drabick said emergency-response officials are aware of 14 cars carrying vinyl chloride, a colorless gas that can easily burn and is used to make polyvinyl chloride hard plastic resin. Because of the smoldering fire, emergency responders haven't been able to access the derailed cars.​

Kurt Kollar, with the Ohio Environmental Protection Agency's office of emergency response, said officials were monitoring chemicals that reached some nearby streams, but said there is no current risk to the area's drinking water.​
Each of the fourteen chemical cars carried 25,000 to 33,000 gallons of vinyl chloride. That's close to a half million gallons, or millions and millions of pounds of the chemical. From Encyclopedia Brittanica:
Vinyl chloride, also called chloroethylene, [is] a colourless, flammable, toxic gas belonging to the family of organohalogen compounds and used principally in making polyvinyl chloride, or PVC, a widely used plastic with numerous applications… Vinyl chloride can cause liver damage, and it is classified as a known human carcinogen.​
A spill of carcinogens would be remarkably bad timing if a population had somehow injured their cancer-fighting immune responses. Just spitballing.
OSHA considers vinyl chloride dangerous at 1 part per million (PPM). Here is the NJ Department of Health emergency responder reference for vinyl chloride spills, which says burning the chemical can cause an explosion, among other alarming facts:
...
On February 6th, the Journal's headline read "Ohio Train Derailment Prompts Explosion Concerns, Evacuation Order." The headline suggests the train could have spontaneously exploded, but the more nuanced truth appears in the sub-headline: "Ohio Gov. Mike DeWine on Monday instructed residents of East Palestine, Ohio, to stay away from their homes as officials planned to release chemical gas from five derailed tanker cars."
Ah. So, before it all "exploded," they planned to deliberately release the chemicals. Why?
The answer appears in an "update" on Norfolk Southern's website and in a second article about the chemical train derailment published in the Journal on the same day, February 6th, which included this initial paragraph:
A team of experts released a chemical from five tanker cars and ignited it Monday afternoon to prevent a potentially catastrophic explosion following a train derailment Friday along the border of Ohio and Pennsylvania.​
They "ignited it." In contrast, the Norfolk Southern update said they planned to 'vent' the chemicals, and admitted they knew it would catch on fire: