lifeguard at the cement pond
I've been tracking this for 5 weeks now, I first noticed it near northwestern Australia/Bali back at the end of January. It stayed together all the way across the Indian Ocean and has been for a little while now in what they call cyclone alley between Mozambique and Madagascar.
That's roughly the distance between Miami and Anchorage.
I post it here for consideration because I know that most of you probably have never heard of it. As Americans our news tends to be very insular.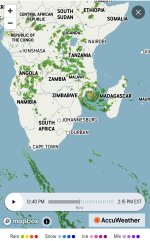 Last edited: