lifeguard at the cement pond
Temp Banned
Bookmarked this movie for later viewing. Has anybody seen it and/or can recommend it?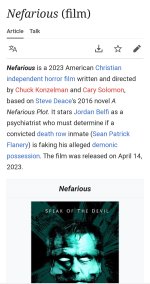 On the review aggregator website Rotten Tomatoes, 35% of 17 critics' reviews are positive, with an average rating of 4.5/10.[5] Rotten Tomato audiences gave the film a 97% positive rating.
Typical for a Christian independent film - the critics hated it and the audience loved it.