We're at about 48% of the population vaccinated here (in Israel). This includes >80% of everybody over age 50 ( at least one 'jab'), and >50% of people over the age of 20. So far the results have been very good, but only time will tell.
See here:
https://datadashboard.health.gov.il/COVID-19/general
site in Hebrew, but it is mostly graphs.
Graph of % vaccinated by age group. Light green had two doses, dark green only one so far.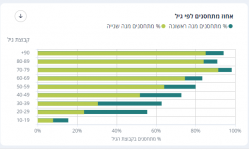 Last edited: