Do you loathe Star Wars like me? Then this is the multimedia thread for you! It's Star Wars Day, let us disrespect Star Wars in any way imaginable. Some Star Wars jokes to open the festivities.
That's some wonderful acting going on here.
Those special effects sure are special!
Anakin Skywalker is more wooden in personality than Woody the Cowboy
Vader is stiffer than Statler and Waldorf from The Muppets
I used to have a collection of The Emperor plushes. I called them the California Raisins.
Lightning? Really? That's the best you can do? William Wallace shot that from his posterior.
OK, SO WHY DO THEY HAVE TO KILL OFF THE ONLY GOOD CHARACTERS!?!?!?!?! Darth Maul, the coolest character ever? Dies..... Jango and Boba? die..... Yoda? dies..... General Grevious? dies.... Mace Windu? dies..... Han Solo? Might as well have died. He missed half the saga. What are we left with? A sniveling, scrawny Johnny come lately named Luke, his sister Leia with her giant buns (on her head, fanboy) and a bunch of furry ewok? Oh and the ghosts. Don't forget the ghosts, they are going to do a lot of good. Yea..... ghosts.
Where is the Aragorn, Gimli or the Legolas of Star Wars? NOWHERE!!! PROVE ME WRONG!!! YOU DON"T GOT THIS STAR WARS.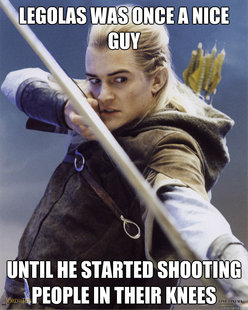 THAT IS EXACTLY RIGHT!!! LUKE WOULD NEVER SHOOT SOMEONE IN THE KNEE WITH AN ARROW!!!
SEE THAT?!! THAT IS THE OPPOSITE OF WHAT PRINCESS LEIA WOULD DO TO HER SUBJECTS!!!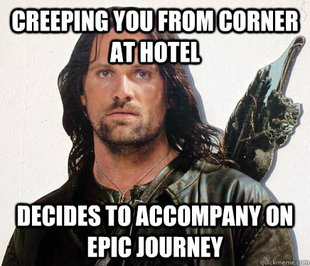 JANGO DIES WHEN HE TRIES IT!!!!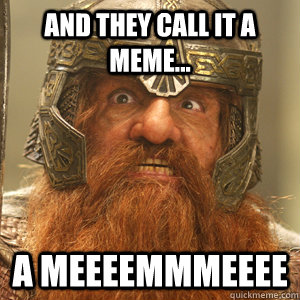 GIMLI HAS A MEEEMMMEEE!!!
THIS GUY DIED AND NO ONE CARED!!!
So, to be fair there are two cool things about Star Wars. One is the video games. The other is cosplay babes.
EXHIBIT A...... StarKiller from The Force Unleashed (about time). Vader's apprentice who GETS KILLED ARRRGHHH BUT COMES BACK AS A CLONES (thankfully)!!!!! Cool pic incoming.
EXHIBIT B........ I don't know who she is, but I would slay Storm Troopers with her anyday. Yes I would!
SO THERE YOU HAVE IT!!! STAR WARS IS A TERRIBLE FRANCHISE EXCEPT FOR TWO THINGS. PROVE ME WRONG AND YOU CAN'T DO IT, ETC ETC ETC. CLOSING POST DESCRIBING HATE FOR STAR WARS. CLAIMING SUPERIORITY OF MOVIE WITH ELVES, DRAGONS AND SORCERERS ETC ETC ETC.